Biography of Jacob Jacob Wieler 1865-1956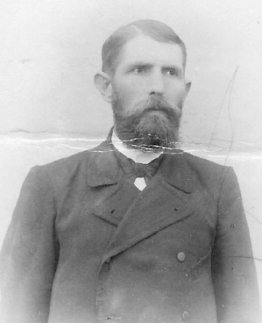 Jacob Wieler was born on July 26, 1865 in Furstenau, Molotschna the youngest child of Jacob Wieler and Elizabeth Loewen. When Jacob was three years old (1868) the family moved to the newly established colony in the Kuban region of the Caucasus. The first fall there his mother passed away on September 8th, 1868, probably due to the initial harsh pioneer conditions and unfit water. His distraught father terminated his business there and took his five children back to the district of Taurien. The children were divided between the relatives and his father became a carpenter. In 1870 his father married again to Susanna Wedel and raised a new family of three children.
Meanwhile, Jacob passed amongst several relatives and friends, eventually ended up in Tiegenhagen in 1872 as a foster child of the Peter Friesen family, a family that had no children of their own. He remained with them 21 years. Jacob's father, living 75 miles away, was only able to make yearly visits to give comfort and religious encouragement. However that ended when his father died in 1885 when Jacob was 20 years old. Jacob grew up a lonely and poor child. Evenings his pillow would get wet from his tears, longing for some unknown happiness. Over time Jacob struggled also with his soul and found much comfort when as a young adult he joined the Mennonite Brethern Church. In 1892 a friend recommended a certain girl in Blumenheim, Schoenfeld by the name of Elizabeth Regehr who would be the right wife for him. Her parents, Jacob Regehr and Maria Dick, were rich having some 6000 acres of land . Because of Jacob's poor background the parents rejected his courting overtures. Elizabeth's father being sick at the time died shortly afterwards and finally after Jacob's return from spending a year at an Interdenominational Bible College in Chrischona, Switzerland, permission to marry was given and held on June 27, 1896.
For the first while Jacob and his bride Elizabeth along with her mother, lived in the homeplace of Blumenheim, Schoenfeld, which Elizabeth inherited plus two additional farms of 450 acres and 225 acres nearby. Elizabeth's mother with a shrewd business sense and eye for the future purchased in 1899 some 12,000 acres of land in Neu Samara, near Podolsk and divided the land among her five Regehr children. Elizabeth, being the youngest received the smallest share of 2100 acres. Mrs Regehr died shortly after in 1901. Jacob moved to his Neu Samara estate in 1908. At the same time he purchased four smaller farms of about 120 acres in the village of Podolsk where they built an abode to live in. This was replaced in 1913-14 with a large 13 room mansion. Tragically Elizabeth never got to live in it. Pregnant at the time, she died shortly after a sleigh accident, but not before giving premature birth to daughter Anna on January 31, 1913 and passed away two days later on Feb 2, 1913. This was not the only grief father Jacob had to endure, as they had already lost two of their children. Johannes 1906-1911 and David in 1910-1912. Son Peter born 1898 was to die later in 1919 from typhoid fever. Of the nine children born six survived . Jacob born 1897, Franz 1900, Gerhard 1902, Maria 1905, Elizabeth 1908 and Anna born 1913.
To care for his young family, Jacob married a second time on Feb 8, 1915 to the widow, Augusta (nee Klassen) Stoesz, from Saratof.
Jacob's strong religious beliefs and schooling in Switzerland led him to dedicate most of his active life to preaching the gospel and serving as one of the three ministers of the Lugovsk Mennonite Brethren Church in Neu Samara. He was always of delicate health and so preferred to leave the active management of his estate to his wife and hired help. He was also known to be a stern taskmaster and disciplinarian, particularly with his sons.
From 1914 onwards was a tumultuous time in Russia. World War 1 broke out followed by the Bolshevik revolution in 1917. In 1920 his new home was confiscated by the local Soviets for their headquarters. (It still stands now but since the 1970's has been turned into the Podolsk National Museum.) By the summer of 1921 Jacob had to go into hiding when he was warned of his impending arrest. From his hiding place he secretly sold what he could and converted the proceeds into gold. He then arranged to rent a railway boxcar and, with his second wife Augusta along with Justina, her daughter by her first marriage, plus foster child, Helen Dyck, then his son Gerhard, and his three daughters plus four other families, (Peter Wiens, and the teachers P. Siemens, G. Toews, and Heinrich Wieler (unrelated) ) they were able to flee to Moscow. There as members of the group where preachers and teachers, they were able to obtain papers and permission to proceed to the Wohlynia area near Kiev where there was a shortage of these professions. Where they stayed a number of months while he arranged for the dangerous secret crossing over the Polish border. While in this area, Jacob's second wife, Augusta died from cancer of the liver, in January 1922. He used up most of his gold for bribes and crossing fees. They eventually reached Lager Lechfeld, Germany, with little money left at a time when Germany was wracked by extreme inflation and mass unemployment. Here he stayed until June 1923 when passage was arranged for himself and his three daughters to Laird, Saskatchewan, Canada, He was accompanied by his son Franz and his newly married wife Martha Krause, who went as far as Manitoba. His other two sons, Jakob newly married to Aganetha Braun and Gerhard traveled independently to Manitoba as well.
In Laird Jacob served as a pastor at the Laird Mennonite Brethren Church for three years.. Following glowing reports of opportunities in Coaldale, Alberta, Jacob moved there purchasing a nearby small farm on credit. He also served for a short while as a minister in the Mennonite Brethern Church. On Oct 28, 1929 he married for the third time to the widow Maria (nee Toews) Heese born Dec 18, 1874. The marriage was not a happy one but they lived together long enough to celebrate their 25th wedding anniversary in 1954. Since the early 1930's after selling his farm, Jacob retired and lived a quiet and sparse life settling in Coaldale in a small house, tending his garden and fruit trees. He died there on March 9, 1956 and is buried in the cemetery behind his church. He lived a long and difficult life with many hardships and disappointments but always with a strong belief in God in whom he never hesitated to express his faith.
His son Jacob married Aganetha Braun in Lager Lechfeld in 1923 and eventually settled in Mountain Lake, Minnesota. Franz married Martha Krause in 1923 in Lager Lechfeld as well and settled in Saskatoon, Saskatchewan. Gerhard or George married Mary Epp in 1924 in Laird, Saskatchewan and settled in Burnaby, B.C. Maria married Jacob Quapp in 1927 and settled in Coaldale, Alberta. Elizabeth married Heinrich Gossen in 1927 and settled in Vancouver, B.C. Anna married David Enns in 1936 and settled in Vauxhaul.
---
Prepared by Erwin Wieler, son of Franz Wieler, Surrey, B.C. in the year 2005.